BOC EDWARDS EXC100 / TIC Turbomolecular pump controller repairs and recalibration service


At A1 Power Engineering (UK) we offer a comprehensive repair, refurbishment and recalibration service for all turbomolecular pump controllers manufactured by BOC Edwards including the EXC100E and EXC100L controllers. In addition we also now offer full service support for the TIC-100 & TIC-200 range of controllers (D39700000, D39701000, D39702000, D39703000, D39722000, D39721000, D39711000, D39712000).

We currently service these units for research laboratories and Universities worldwide with service pricing less
than 50% of that charged by Edwards and typical turnaround time within 3 days (24hrs if urgent).
Units are fully recalibrated using a combination of electronic loads and an Edwards Vacuum pump.

Recalibration includes:

Motor / pump speed checking and adjustment to maximum available



Vent and interlock control functionality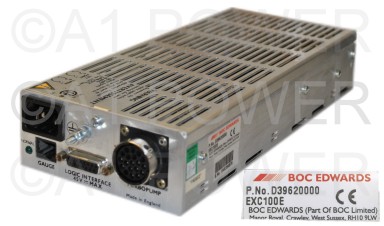 Gauge / Logic interface checking



Motor / pump peak voltage calibration



Over current protection check (motor overload)



Overhaul / refurbishment of the main power converter

Checking of all known potential failure issues



Safety / HI-POT tests



Assurance of reliability with our 12 month warranty
***PLEASE NOTE : WE ARE UNABLE TO PROVIDE REPLACEMENT PRODUCTS***

**WE GUARANTEE TO BEAT ANY UK COMPETITOR ON PRICING, WARRANTY AND TURNAROUND**
Please contact us for current service pricing and leadtime.

For more urgent enquires please feel free to speak with
a member of our mobile engineering team directly on
07543 780328.