We offer a comprehensive business to business DC rectifier repair and refurbishment service for all brands of
industrial DC rectifiers, power supplies, DC-DC converters, industrial battery chargers and power inverters.
Most common brands currently serviced include : Farnell, Philips, Advance Power, Astec, Ascom, Nortel
Helios, Erricson, Eltek and Power-One but all brands are welcomed for evaluation.
Our DC rectifier repair service includes :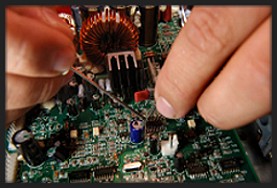 Unrivaled 2 Year Warranty provided on most products
Free repair evaluation and quotation
Fixed price repair (no fix - no fee)
Full functional load testing
Safety tests (HI-POT & Earth leakage)
Soak test @ 50-100% load for 3hrs min.
Choice of either repair or full refurbishment
Fast turnaround (sameday / 24hr or 5 day service)
Contract pricing for regular clients
Detailed fault reports on request
Collection service available within a 100 mile radius
Last and by no means least - a friendly, personal and
highly professional service !
In addition we can offer :



Custom designed replacements via our design and manufacturing partners


Detailed pre-qualification testing of your product including thermal analysis



All major credit cards accepted including Paypal