Power Conversion / Fox Industries F5146/2 and F5146/3 ( Domino 35915 ) power supply repair and refurbishment
At A1 Power Engineering (UK) we are the worldwide service specialists for the S200/Z003, F5146/2 and F5146/2 6U power supplies as manufactured by Power Conversion (later Fox Industries) in the UK. These power supplies were supplied to Domino / Videojet in the UK for use within the BitJet and JetArray series of printers (pt. 35915).
We are now the only dedicated service facility able to offer a comprehensive refurbishment service for this product with full retesting and recalibration of all internal adjustments to original specification. We hold the original parts lists, schematics and test specification for this product.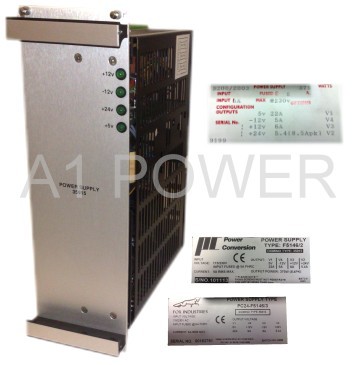 We frequently find that most of the signals / controls accessable via the top cover have been inadvertantly adjusted by the user - often in an attempt to adjust the output voltage. It is critical for safe operation of this power supply within the Domino system that these settings are correct - as form various overload and backup protection.
During the repair process the condition of all electrolytic capacitors is checked and replaced where necessary for high quality 105 Deg C rated types manufactured only by the most reputable Japanese manufacturers.
Products are fully functionally tested (including safety testing) via our specialist electronic loads and shipped with a full 12 months warranty (terms apply).
Fast 24hr turnaround service available (subject to availability of components).

Please contact us for current service pricing and current turnaround times available.