Stadium Power FP190-710 and FP190-710/2 power supply repair
As ex-Ferrus Power engineers we have extensive experience in the repair and refurbishment of the Stadium Power (previously Ferrus Power) model FP190-710 and FP190-710/2 (Thermo parts 420216600005, 420216600006,420216600007 and 420216600008) 190W multi-output power supply as used within Thermo Elemental / Thermo Fisher / Unicam atomic absorption spectrometers.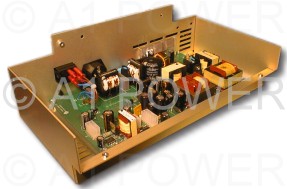 This product is tested using original specific electronic test loads and to the original Ferrus Power test specification.
High voltage outputs (lamps) are fully loaded as well as pulse loaded to specific Thermo requirements. Low voltage outputs, heater voltages and clock signals are also validated and recalibrated.
Our repair service for this product includes full capacitor refurbishment (where required) using only high quality long life Japanese capacitors (Panasonic, Rubycon or Nichicon typically).
We are able to replace all components in these products, including transformers (common failure) and chokes.

**PLEASE NOTE : WE ARE UNABLE TO PROVIDE NEW OR EXCHANGE UNITS AS NO LONGER MANUFACTURED**
All products are shipped with a 12 month warranty as standard.

Fast 24hr turnaround service available (subject to availability of components).

For current service pricing and leadtimes please contact us for further details.